---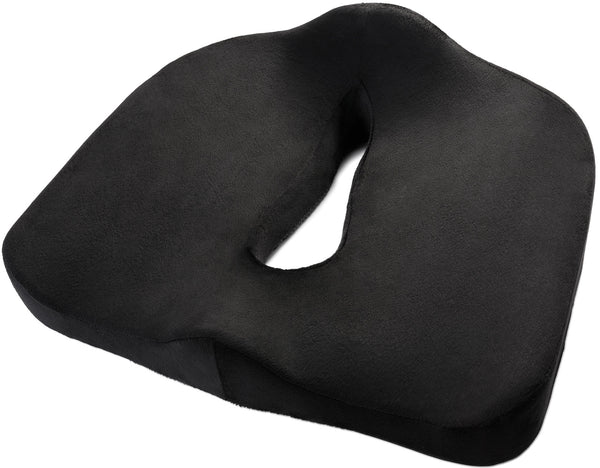 LuxFit Donut Coccyx Orthopedic Memory Foam Seat Cushion Office Chair Car Seat Pillow
---
Product Features:
Donut Style cutout for tailbone pressure relief and comfort during prolonged seating. Seat Cushion.
Superior comfort Seat Cushion for a chair, car seat, plane or wheelchair. Coccyx Cushion.
Machine Washable Cover, Comes with a removable cover that is machine washable, granting easy cleaning. 
Tumble dry on low or air dry for best quality results. 
Cushion Ergonomic design Seat Cushion makes sitting more comfortable, reduces pressure on sensitive areas, 
promotes healthy posture, improves spinal alignment, reduces pressure related pain and protects from further injury.
Relieves Pressure Comfortable seat for individuals sitting in chairs, riding in cars, scooters, etc.
Promotes healthy posture and spine alignment.
Assists in the prevention and treatment of pressure ulcers.
The design is anatomically correct and provides maximum comfort.
Encased in removable and washable luxurious zippered velveteen cover.
Zippered, machine-washable velvet cover.
Made of 100% high quality memory foam. Retains its shape even after long periods of use
Recommended For: 
Pain or numbness from extended periods of sitting at Any office, school or work chair that is uncomfortable.
Any hard surface Office chair cushion Car seat cushion Computer chair cushion Plane flights, road trips or any form of traveling.
Sporting events with uncomfortable bleachers/seats Injured, bruised or broken tailbone Spinal alignment Hip pain or pelvic pressure.
Relief Adding comfort to any seat imaginable Pregnancy or labor-induced coccydynia Osteoarthritis of the spine .
Product Dimensions: 

18 x 3.5 x 14.4 inches
Good For: Car Cushion, Chair Cushion, Seat Cushion. Office Cushion Coccyx Cushion.
Item Code: LXF-DNT