---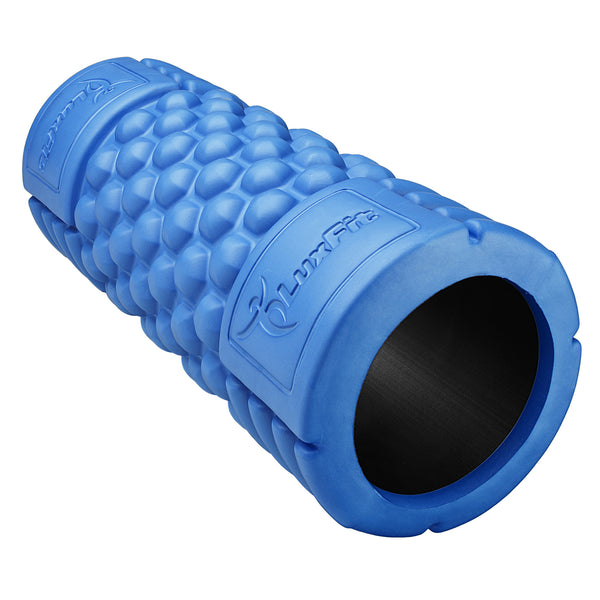 Foam Roller, LuxFit Foam Rollers for Muscles '10 Year Warranty' - Firm High Density, Great for Physical Therapy, Exercise, Deep Tissue Muscle Massage, MyoFacial Release - For Back, Legs, Arms and Full Body.
---
ACUPRESSURE STYLE FIRM FOAM ROLLER - Round shaped bumps reach into deep tissue, like a real deep tissue massage, and is great to hit those trigger points. Quality Foam Repels Liquids.

FOAM ROLLERS FOR MUSCLES - High Density Foam Roller is great for Physical Therapy, before or after Exercise, Yoga, and Massage Therapy. Foam Muscle Roller helps to relieve Muscle Tension and increase Muscle Reflexology.

2 SIZES AVAILABLE FOR ALL YOUR NEEDS - 26 Inch, and 13 Inch. The 13 Inch is small enough to fit in most gym carry bags - ideal for travel. Muscle Rollers are great for Back Pain and Back Exercises. Great for core stabilization, balance, and stamina.

FOAM EXERCISE ROLLER HELPS PREVENT MUSCLE INJURY - Perfect for positioning, balance, postural and muscle re-education, spinal stabilization, body awareness and coordination, and ranging and strengthening activities

FULL 10 YEAR LIMITED! - Using your own body weight let the roller do a MyoFascial release to provide Maximum Relaxation Relief. Firm roller for Deep Tissue Massage.